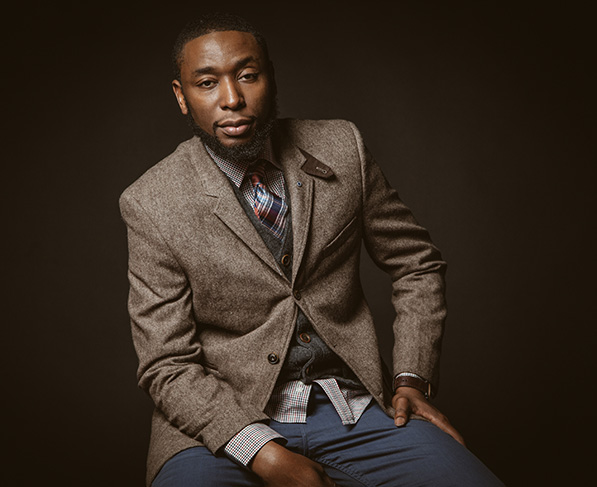 '9th Wonder' and Poet Brenda Marie Osbey to Join WFU's African American Studies Program
Corey DB Walker, professor of humanities at Wake Forest and founding director of the African American Studies program, said: "As an academic discipline, African American Studies is distinguished by the creative collaborations between artists, writers and scholars. . We are delighted to have these two formidable talents join our intellectual community.
Douth said he was delighted with how everything has come full circle with this opportunity to return to Wake Forest. "I have been linked to the University since 1989 through Ernest Wade, former Director of Minority Affairs. I was selected at the age of 14 for "Project Ensure", a college preparation program for academically gifted minorities in Winston-Salem up to 9th grade. I spent every summer there until I graduated from high school in 1993. Wake Forest was my very first taste of what college life could and would be.
For Osbey, the return to Winston-Salem is another opportunity to work with Walker whom she has known since their time on the faculty at Brown University. "In 2017, at the invitation of Professor Walker, I attended presentation sessions by students from Winston Salem State University and Wake Forest as part of a course on universities and communities he and Provost Rogan Kersh were then teaching. Their "com-university" approach had a particular appeal. This echoed an earlier sense of higher education having a mission extending beyond the advancement of the individual, a commitment to service to immediate and wider communities. Taking notes during these student presentations, I was eager to join in the post-discussion. And I have that feeling of anticipation and excitement again. I really look forward to working with the students in the African American Studies program.
Walker is thrilled to welcome Douthit and Osbey to Winston-Salem. "To be able to welcome 9th Wonder home to an institution that has been so formative for him and to welcome my dear friend Brenda Marie is a gift."
Grammy-winning producer and native of Winston-Salem, Patrick "9th Wonder" Douthit is an accomplished artist, producer, and social justice advocate. He received the Nassir Jones Fellowship at Harvard University where he lectured and conducted research in hip-hop archives. For more than a decade he taught at Duke University and Central University of North Carolina. He has also taught at the University of Pennsylvania and the University of Virginia and has lectured at colleges and universities across the country. In 2021, he was named a visiting professor at Long Island University's Roc Nation School of Music, Sports and Entertainment.
Since his introduction to hip-hop in 1982, Douthit has been immersed in the music, history and culture of the art form. While attending Central North Carolina University, he decided to pursue a career in music and worked with top recording artists including Jay-Z, Kendrick Lamar, Mary J. Blige, Destiny's Child, Drake , Erykah Badu and Jill Scott. He is the subject of two acclaimed documentaries The Wonderful Year (2011) and hip hop companion (2014), both directed by Kenneth Price. He serves on the Hip-Hop and Rap Executive Committee at the Smithsonian National Museum of African American History and Culture and is currently working with Harvard University's Loeb Library to chronicle the top 200 hip-hop albums of all time. . He also served as the National Ambassador for Hip-Hop Relations and Culture for the NAACP. In 2019, Douthit was inducted into the North Carolina Music Hall of Fame.
Brenda Marie Osbey is a non-fiction writer in poetry and prose in English and French. She is currently a Hodson Trust-John Carter Brown Library Fellow at Brown University and Washington College where she is working on her latest project, "GEOGRAPHY: Narrative Poems", which examines themes of exploration/exploitation, corporate /adventure, cartography/appropriation, encounter/conquest, settlement/colonization, nomination/submission in the making of the New World. Osbey has held faculty positions at Dillard University, Louisiana State University, Loyola University, University of the South, UCLA, and distinguished visiting appointments at Brown University, at the University of Virginia and Winston-Salem State University.
A New Orleans native, Osbey was named the state's first peer-selected poet laureate in Louisiana in 2005. Her work has been the subject of book-length studies and panels at Society conferences. for the Study of Southern Literature (SSSL), Modern Language Association (MLA), College Language Association (CLA) and Furious Flower African American Poetry Conference. His seven books include his collected poems, All Souls: Essential Poems (LSU Press, 2015); History and other poems (Time Being Books, 2013; Langston Hughes Prize, 2014); All Saints: New and Selected Poems (LSU Press, 1997; American Book Award, 1998). She is also the author of a Kongo-New Orleans opera triptych, Sultane at the Grand Marais (Rites & Reason Theatre, 2011). She has twice been commissioned to compose works by the University of Virginia: by the Carter G. Woodson Institute in 2011 and the President's Commission on Slavery and the University in 2013. In 2017, she was commissioned by the College of William & Mary to compose a work commemorating the 50th anniversary of the desegregation of the institution. 1967: On the occasion of the semi-centenary of the desegregation of the College of William & Mary was released in a limited edition the following year and reissued in 2019. The latest line of 1967 is engraved in the Sankofa Seed memorial sculpture (Steve Prince, 2020), erected in the Legacy Tribute Garden on the university campus.
Osbey has been featured by the Academy of American Poets and Poetry Society of America, and her poems and essays on art, music, and culture have appeared in numerous journals, anthologies, and collections. For more than thirty years, she has researched and recorded the history of Faubourg Tremé, a community founded by free blacks in New Orleans. His series, "Faubourg Tremé: Community in Transition", has been published regularly in the New Orleans Grandstand. She was a research consultant for Faubourg Tremé: the untold story of black New Orleans (Serendipity Films/PBS 2007) and appears as a commentator on New Orleans black culture and history in this film and in Claim open spaces (Urban Garden Movies/PBS, 1996). "Notes de France", his series on race relations in contemporary France, was the subject of a column in Weekly Gambit (2004).