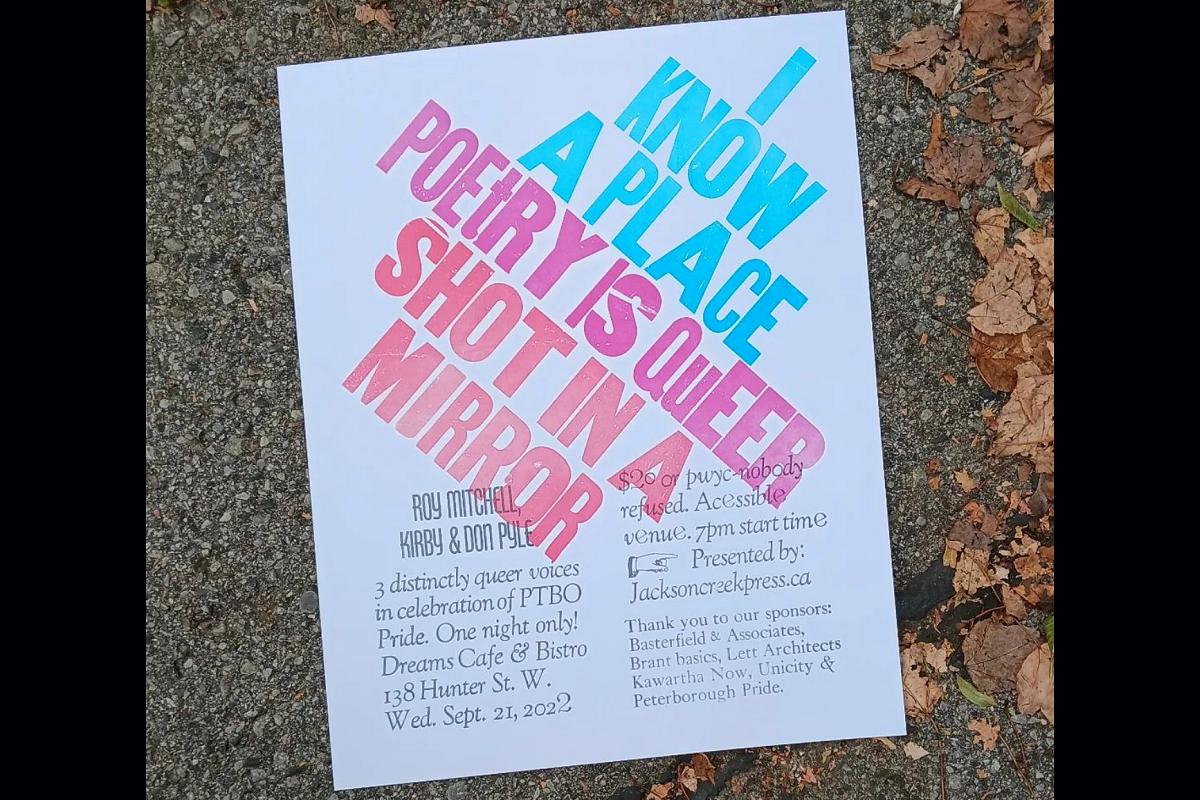 An evening of film, poetry and photography during Peterborough Pride features three 'distinctly queer voices'
Three "distinctly queer voices" will be showcased during an evening of film, poetry and photography on September 21 when Jackson Creek Press presents "I Know A Place / Poetry Is Queer / Shot In A Mirror" at Dreams Café and Bistro at downtown Peterborough.
It is one of many events taking place during Peterborough-Nogojiwanong Pride Week 2022, supporting and celebrating people of all sexual orientations and gender identities, which begins with the proclamation of Pride Week and The Progressive Pride Flag Raising at Peterborough Town Hall at 12:3pm on Friday September 16th and continues through Sunday September 25th.
The theme for this year's Pride Week is "Joy and Resistance", reflecting Pride's origins in 1969, when police raided the Stonewall Inn, a gay club in New York's Greenwich Village. When the police turned violent, the local gay community fought back. A year after the uprising, the first gay pride marches took place in Chicago, Los Angeles, New York and San Francisco.
Advertisement – story continues below
"I Know A Place / Poetry Is Queer / Shot In A Mirror" will take place from 7 to 9 p.m. on Wednesday, September 21 at Dreams Café and Bistro (138 Hunter St. W., 705-742-2406).
"It's going to be an evening full of film, poetry, photography and some kind of dialogue," says organizer Jeffrey Macklin, mixed media artist and graphic designer and owner of Jackson Creek Press in Peterborough.
The evening begins at 7 p.m. sharp with the screening of the short film I know a place by Roy Mitchell, podcaster, writer, educator and filmmaker who now lives in Hybla, Ontario.
Tweet this quote
The film tells the story of Robert Goddere, an Algoma-area man who was well known in what was then a fairly underground gay community in Sault Ste. Married. Goddere was known for his love of organizing gatherings for the gay community and had a tendency to care for members of his community, so much so that he jokingly referred to himself as a "mother".
Mitchell made the 30-minute film in the 1990s, when he lived in Toronto and was part of the city's art scene. After Macklin saw the film 20 years later, he knew it deserved a wider audience.
"When I saw Roy's film, it made a deep impression on me even though the story is based in Sault Ste. Marie," says Macklin, who came out 10 years ago. "It really resonated with my experience at Peterborough."
Advertisement – story continues below
After Macklin secured a screening location for the film, he decided to find another job that would complement the film.
"I felt like there was an opportunity to make it a richer night," he says.
Through community ties, Macklin contacted Toronto poet Kirby and Don Pyle, record producer, musician, composer, photographer and producer.
Kirby is the knife editor | fork | book on knifeforkbook.com and can be found on Instagram @poetryisqueer. They are known for their poetry celebrating moments of queer love in a largely heteronormative world. However, Kirby also strives to make the voices of his fellow writers heard by hosting events, running workshops, and publishing textbooks.
Their latest book, Poetry is queeris described as "a hybrid genre memoir like no other" where "Kirby pays homage to gay touchstones while embodying both their labor and their joy."
Pyle will join the event to show photos and read excerpts from his second book Shot in a mirrora collection of inspiring queer portraits.
Advertisement – story continues below
Pyle's first book, Trouble in the Camera Club, is a collection of photos and essays documenting the beginnings of punk rock in Toronto. Pyle began his musical career in 1979 as a drummer in a punk band called Crash Kills Five. Pyle and two other band members would later form Shadowy Men on a Shadowy Planet, a Juno Award-winning band best known for the theme song to the Canadian sketch comedy television series. The children in the room.
Pyle and Kirby's latest books will be available for purchase during the September 21 event.
Upon contacting Kirby and Don, Macklin was struck by the small size of the queer art scene in Canada, and particularly in southern Ontario. Not only do Kirby and Pyle know each other, they also know Mitchell.
Cost for 'I Know A Place / Poetry Is Queer / Shot In A Mirror' is $20 suggested at the door, or pay what you can.
"I'm very aware that artists get paid because I'm an artist too," Macklin says. "That was also a big factor in putting on this event – that we had enough money to reward them for their work."
Macklin has also secured financial support for the event from local firms kawarthaNOW, Lett Architects, Basterfield & Associates, Unicity and Brant Basics as well as Peterborough Pride.
For a full list of 2022 Peterborough-Nogojiwanong Pride Week events, visit peterboroughpride.ca or kawarthaNOW's Peterborough Pride Events column.