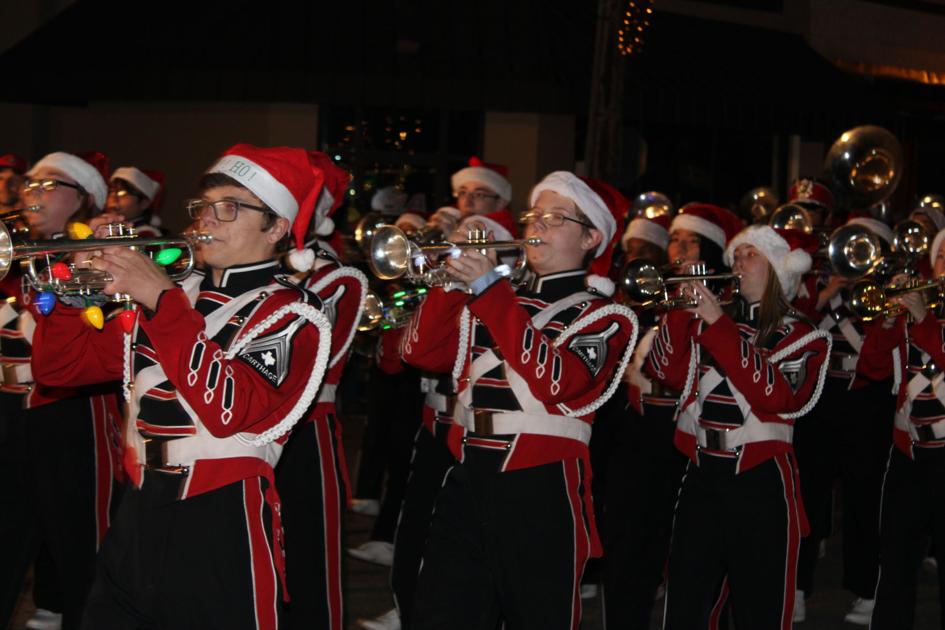 Briefs: Carthage Christmas Parade Announced, VFW Sponsored Essay Contest | Lifestyles
[ad_1]
Carthage Christmas Parade Announced
The Panola County Chamber of Commerce has announced that the 75th Annual Christmas Parade will take place on Monday, December 6 at 7 p.m.
This year's theme will be "The Best Christmas Parade Ever" in honor of the 75th Anniversary.
Parade participants will be able to choose their own theme from a list of previous themes from past years. Nominations will be available by calling the Panola County Chamber of Commerce at (903) 693-6634 or by going to the chamber's Facebook page.
The advantage of the car wash is on Saturdays
The Dallas Tigers are hosting a fundraising car wash on Saturday, September 25 at 9 a.m. at Auto Zone in Carthage. The profits will go to the expenses of the team.
Blood drive is Tuesday in Cedar Grove
The first annual Cody Baldree Memorial Blood Drive is set for Tuesday, September 28 from 1:30 p.m. to 6:30 p.m. at Cedar Grove Baptist Church, located at 1050 County Road 108.
You can schedule an hour on the Cedar Grove Baptist Church Facebook page.
VFW Sponsors Student Essay Competition
Veterans of Foreign Wars Post 5620 is once again sponsoring two essay contests for Panola County students in grades 6 to 12. Local winners receive cash rewards and advance to the district and state contests for thousands of dollars in scholarships.
The Voice of Democracy competition is open to students in grades 9 to 12 who write an essay on a patriotic theme and record their essay on a CD or USB drive. State winners receive an all-expense paid trip to Washington DC to compete at the national level. The national winner receives a scholarship of $ 30,000.
The Patriot's Pen contest is open to students in grades 6-8. Students express their opinions on a patriotic theme in a written essay. State winners compete for a total of $ 91,000 in US Savings Bonds, with the national winner receiving a prize of $ 5,000.
Entries for both contests are available by contacting Contest Chair John Foster at (903) 693-8607. The competition is open to all students in public schools, private schools and home schools who are encouraged to participate. The deadline for registration is October 31 for both competitions.
Dad's breakfast is scheduled for October 1 in Beckville
Beckville Athletics will host the Annual Dads Breakfast on Friday, October 1 from 6:30 a.m. to 7:30 a.m. in the gym at the Sports Complex.
Men from the community are invited to come and have lunch with the football players.
Tri-County Community Action is looking for a Board Representative
Tri-County Community Action has a vacant position on its board of directors, the organization said. The opening is for the Panola County area, Harrison and Upshur for the representative of the poor.
The deadline for the response and required documentation is September 24. Those interested can contact LaTisha Stanberry at (936) 598-6315 ext. 502 or Yolanda Neal at (936) 598-6315 ext. 200 Monday to Thursday 8 a.m. to 4:30 p.m.
Carthage student makes dean's list
Seton Hall University is pleased to announce
Emily Pemble qualified for the Spring 2021 Dean's List at Seton Hall University, the school said.
Undergraduate students who complete all courses with a GPA of 3.4, with no grades below "C", qualify for the Dean's List.
Carthage ISD is recruiting a superintendent search firm
Carthage ISD has hired the Texas Association of School Boards to conduct its next superintendent search.
TASB and Arrow Education Services, which was the company the district used in their last research, submitted proposals at a meeting on Wednesday, September 15.
The district had previously said it hoped to hire a new superintendent by early next year.
ISD Carthage administrators approve roofing contract
Carthage ISD directors have agreed to negotiate and execute an amendment to a contract with Merit Roofing to increase the total contract price to $ 1,068,579 at a special meeting on Wednesday September 15th.
The contract will cover the additional costs for the replacement of the roof of the primary school in Carthage.
Gary Trade Day is Saturday October 9
Gary will be hosting his community-wide shopping day on Saturday October 9 at Bird Park.
Vendors can register at Gary Town Hall. The fees are $ 10 for a space of 10 feet by 10 feet or $ 20 for a space of 10 feet by 20 feet. Cash only.
[ad_2]