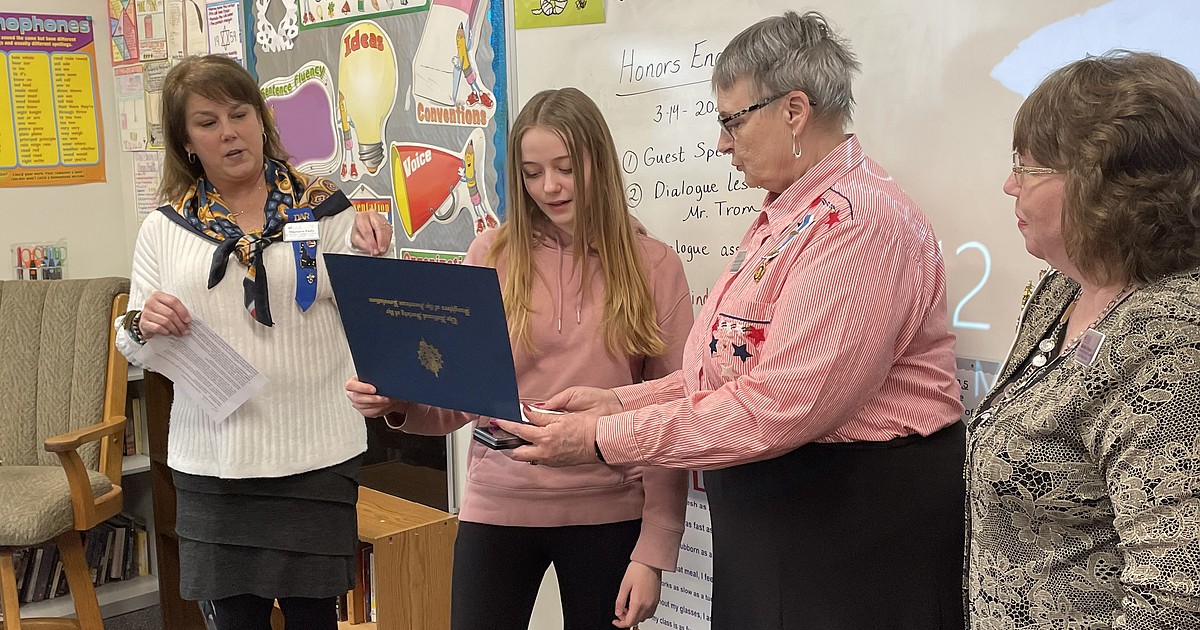 DAR Honors Winner of American History Essay Contest
HEART OF ALENE — The Lt. George Farragut Chapter of the Daughters of the American Revolution is proud to recognize Reese Alexander as the winner of the American History Essay Contest.
Reese is an eighth grader at River City Middle School in Post Falls. She received a bronze medal, a certificate and a monetary award during her English class on March 14. His trial reached the state level.
This year's theme was the Tomb of the Unknown Soldier. November 11, 2021 marked the 100th anniversary of its inauguration. Students had to imagine having a brother who lost his life on the battlefields of France during World War I and that they and their family attended the dedication on November 11, 1921 in Washington, D.C.
Reese concluded his essay with, "After a while I went upstairs and lay down in my cozy bed. I soon struggled to keep my eyes open and fell into a spider web of dreams. When mom shook me, I jumped out of bed. I rushed to the closet and picked out a formal black button; it was Williams, and denim jeans and the same aged oxfords. I raced outside and jumped into the 1920 Nash Touring. It was a long drive and sorrow filled the air. When we arrived in Arlington to honor the most sacred grave. A dark moment. My emotions overwhelmed me. I saw a little girl hugging her big brother. I should have felt happy at the sight of the girl's smile, but instead I felt resentful. Why did my brother die? Why did considerate Willam die innocently? He was the only person who could make me smile. When I went to lay a red rose on the grave, a tear fell from my cheek. It was hard to see the cause of those deaths, but now I see that they died for me, for Mother, and for America. Thanks Soldiers; thank you William."
Londyn Steckman, also an eighth grade student at River City Middle School, received a certificate for her participation in the competition.
Nancy Hicks, Reese and Londyn's English teacher, has been promoting the contest to her students for several years.
All students in grades 5 through 8 can enter the annual competition, whether they are enrolled in a public, private or parochial school or are homeschooled.
"The competition provides a wonderful opportunity for young writers to learn about patriotism, one of DAR's missions," said Stephanie Keaty, chair of the American History Committee. Next year's competition topic will be announced this summer.