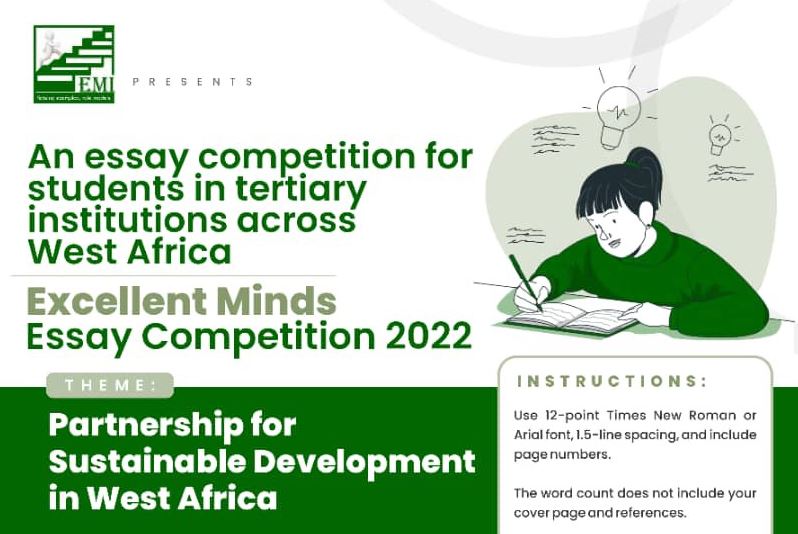 Excellent Minds Essay Competition 2022 for West African Students
Deadline: May 5, 2022
Applications are open for the 2022 Excellent Minds Essay Contest. The Excellent Minds Essay Contest is a brainchild of the Excellent Minds youth and social empowerment initiative. This is an annual essay competition for undergraduate students at institutions of higher learning.
The competition aims to promote critical thinking, harness ideas and develop the inherent talents, abilities, gifts and skills of African youth. Over the years, the Excellent Minds essay competition has been held in Nigerian universities. Since its official launch, it has inspired innovative, high-impact student projects and ideas aimed at solving Nigeria's most pressing problems.
This year and beyond, the competition is expanding to higher education institutions across West Africa, focusing on development issues associated with the region. The competition theme for this year's edition is Partnership for Sustainable Development in West Africa.
Price
Jackpot: Apple ipad and a plate
Second prize: Samsung Galaxy Tab A7 Lite and a plate
Third Prize: Kindle 6″ Wi-Fi eReader [10th gen] and a plate
The top 5 essays will also be posted on the EMI website for unlimited access to the online community.
Eligibility
Open to undergraduate students in West Africa;
They must be enrolled in any discipline of higher education institutions in West Africa.
Instructions
In no more than 1000 words, identify and describe some of the key challenges facing West Africa and propose collaborative solutions for West African countries. These solutions should not negatively affect their commitments to other African nations.
Use 12 point Times New Roman or Arial font, 1.5 line spacing, and include page numbers.
The word count does not include your cover page and references.
All entries must be in English
Application
The deadline for submission is May 5, 2022. Shortlisted semi-finalists will be notified by May 30, 2022.
For more information, visit EMI Essay Contest.