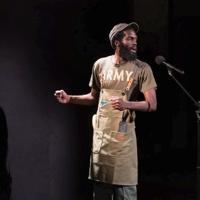 First Citizens National Poetry Slam celebrates… | Local features
As the First Citizens National Poetry Slam celebrates its tenth anniversary, Bocas Lit Fest CEO Jean-Claude Cournand praised the competition which he says has evolved from humble beginnings to become the greatest competition of spoken word in the English-speaking Caribbean. The 'slam', as it is popularly known, has not only had an impact on youth development by providing young men and women with a platform to express their views and opinions, but it has also helped participants of all ages to pursue their careers and aspirations.
Prior to 2012, spoken word was performed in bars and pubs and was a form of entertainment with many performers vying for crowd attention and a modest reward. But the "2 Cents Movement" which consisted of Cournand and other artists started the "Slam" which became the Verses Bocas Poetry Slam in 2012 which later evolved into the First Citizens National Poetry Slam (FCNPS) as we know it now.
It all started ten years ago when Cournand, who was the poetry slam organizer at the University of the Southern Caribbean, was approached by Bocas Lit Fest (where he was the youth outreach coordinator) and tasked to organize a spoken word competition which would be the flagship event to close the annual Bocas Lit festival. It seemed only fitting to have spoken, which is poetry in motion, under the Bocas Lit Fest umbrella.
With support from First Citizens, the poetry slam competition known then as Verses was held at the sold-out Old Fire Station in 2013.
"The contest was first introduced to young people because they were the vibe, the people who made this thing go viral," said Alette Liz Williams, Bocas Lit Fest's marketing and media manager. "The jokes were what everyone was looking forward to. They looked forward to their lyrical songs because they were like calypsonians talking about what was happening in society and at home. They used the space as a place where they could express how they felt.
The success was repeated the following year and in 2015 another milestone was reached when the spoken word artists performed at the Globe Cinema in Port of Spain which was packed to capacity. In the years that followed, Cournand and other organizers increased his production value. Buoyed by the growing popularity of the competition, they made the bold and bold decision to rename it the National Slam Poetry Competition before it officially became known as First Citizens National Poetry Slam.
Seeing FCNPS, which has one of the highest monetary prizes in the world for spoken word, reach the level it is at now is one of the most rewarding experiences of Cournand's life. Poetry and spoken word have always been an integral part of his life, at the age of 12 he performed a monologue and won second place in the 12 and under talent competition, narrowly missing the prize of a trip to Disneyland.
"I am very proud, we have really fought for spoken word to develop and reach a level of permanence. Young people like to start and stop things and it's hard to hold something for ten years and yet we've had a slam every year regardless of challenges and transitions and we have one of the biggest spoken word prizes in the world. To be part of such a significant contribution to spoken word is one of our greatest accomplishments," Cournand said.
Burning issues like body shaming, mental health, domestic violence, Islamophobia and suicide have infiltrated the discussions and are on the big stage via the spoken word poets. The competitive slam is what's unique to FCNPS, Williams said; it goes beyond performance and entertainment. It forces poets to go as far as possible to make a statement and shape perspectives and let people think differently about the things that matter, she added.
Reigning slam champion Derron Sandy was introduced to spoken word in 2009 when he heard Gary Acosta perform at the UWI Open Mic. The role of speech is to reflect society and give people something positive to hold on to, a fact Sandy takes very seriously.
"On a personal level, I just like to play; speech aligns with my life," Sandy said. "And seeing all the good it brings to people makes me happy, being able to share this art form with others and seeing others reach the level of performance is very rewarding. Spoken words help me make the subjects more mundane enjoyable and exciting and, most importantly, it's an art form that helps you become empathetic and learn other people's points of view.
Slam enabled self-evolution, Williams said. The poets knew how to recreate, refine and redefine themselves through slam and carry the Caribbean identity further. FCNPS now seeks to strengthen the impact of slam and elevate the brand and voice of slam for future generations, she added. Bocas Lit Fest offers specific, free slam workshops for those who want to learn and develop their skills, regardless of age.
The pandemic has underscored the need for organizers and performers to adapt as auditions move from in-person to virtual. For the first time since 2020, poets will return to the stage and their performances will be broadcast on TTT. The First Citizens National Poetry Slam finalists will take the stage at the Naparima Bowl in San Fernando on October 9. The final round of the spoken word championship will be a joint celebration of ten years of Slam and the 60th anniversary of the Naparima Bowl.