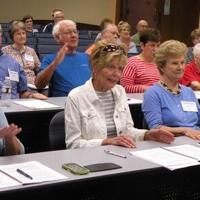 Learning for the Mind, for Fun with Senior College of Central Nebraska | Local News
By RICK BROWN, Yard Light Media

KEARNEY — Winterim's free classes, offered by the Senior College of Central Nebraska, provide a deeper dive into Nebraska's civic, artistic and cultural opportunities.
"We have found in the past that we have had the opportunity to speak with city and county officials," said Stan Dart, chairman of the Senior College Board of Trustees. "We're going to do it this time too."
The program also includes classes with officials from the University of Nebraska at Kearney.
"They'll be talking to us, on different days, about all the interesting things happening on the UNK campus," Dart said.
Classes continue through Feb. 21 as part of the Senior College of Central Nebraska's Winterim program, something the group advertises as "a health club for the mind." The college offers courses taught by experts. Registration is $25 but there is no charge for individual Winterim classes.
One of the current classes, Reader's Theatre, scheduled for February 3, gives students the chance to read a piece of literature aloud with other participants.
"We don't know where this is going to take us," Dart said. "We are going to try to do this course to measure the interest it arouses. We would like to see how many people would like to try. It's not for the performance, but it's for the enjoyment of reading literature and living the role. If there's enough interest in it, we'll probably try to do a regular course starting in March.