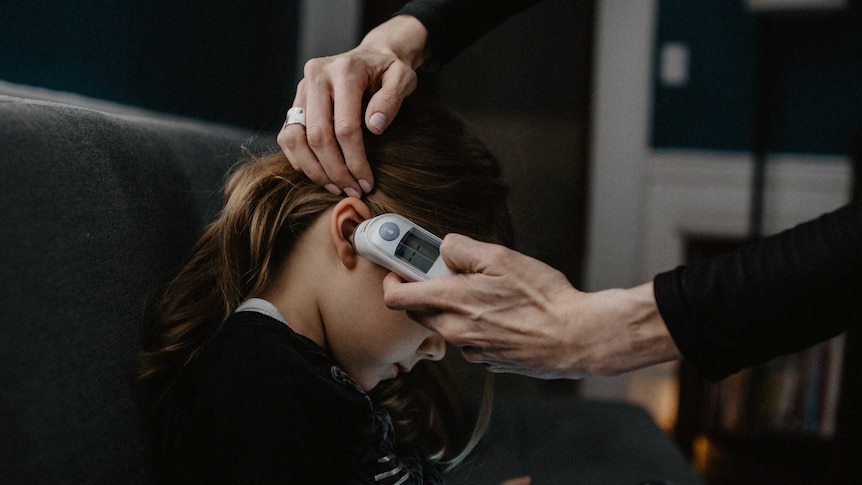 RSV cases in children with respiratory virus up to 50% higher than data suggest
Respiratory syncytial virus (RSV) is already one of the most common causes of babies being admitted to hospital in WA, but new research suggests the number of known cases is just the tip of the iceberg .
Key points:
Researchers have developed a model to estimate the true number of RSV cases
Their calculations suggest the number of cases could be 30-50% higher than the data suggests
There is currently no systematic approach to testing and tracking the virus in WA
New research from the Telethon Kids Institute shows that the true number of cases of the virus, known as RSV, is likely 30-50% higher than current data suggests.
"It's a big concern because [RSV] cause so many hospital admissions," said Hannah Moore, co-author of the research paper published in the journal Nature last month.
"Some children who have severe RSV infections may then experience wheezing and asthma later in childhood."
Dr Moore, who is also co-director of the infectious disease epidemiology team at the Telethon Kids Institute, said there was no systematic approach to testing for the virus in WA.
The result is that not all cases are recorded and the actual number of cases is unknown.
The goal of the new research was to develop a model that can estimate how many cases are actually occurring in WA and, in turn, assess the burden it has on the state's healthcare system.
Non-Vaccine Preventable Virus
"RSV is currently not vaccine preventable, but has been prioritized by the World Health Organization for prevention through vaccination," Dr Moore said, adding that treatments and vaccines are currently in the pipeline. development course.
"So there are all these prevention products that are in clinical trials around the world right now, and in order for us to understand what impact these prevention products and vaccines might have, we first need to understand more , what is the actual burden of disease?"
RSV affects the airways and lungs, including inflammation of the lungs, and it can progress to pneumonia in babies and young children.
Dr Moore now plans to conduct a community outreach study to assess what parents know about the virus.
"A lot of parents will be concerned about lung infections in babies and pneumonia, but they probably don't realize that's the most likely cause of pneumonia in young children," she said.
To develop their model, the scientists used the records of 34,000 cases of RSV in WA children who were hospitalized and tested for RSV between 2000 and 2012.
They then took into account factors such as age, smoking during pregnancy, socio-economic status and the reason the child was hospitalized, such as pneumonia or asthma.
With that in mind, they developed a model to predict the likelihood of a child testing positive.
Predictions inform prevention
Dr Moore said estimating the true number of cases provides better data to inform resources in terms of hospital staff and beds and helps develop effective prevention strategies.
She said predicting RSV spikes has become even more difficult since the arrival of COVID-19.
RSV cases dropped drastically at the start of the pandemic due to lockdowns and isolation before a sharp resurgence in cases in early summer in late 2020.
"And we're still trying to figure out now when RSV seasonality will return to that general pattern of winter infections."
Telethon Kids Institute has just started recruiting for an RSV study, the GRACE study, involving pregnant women.
Its goal is for women to receive an RSV vaccine during pregnancy to protect newborns, just like flu and whooping cough.