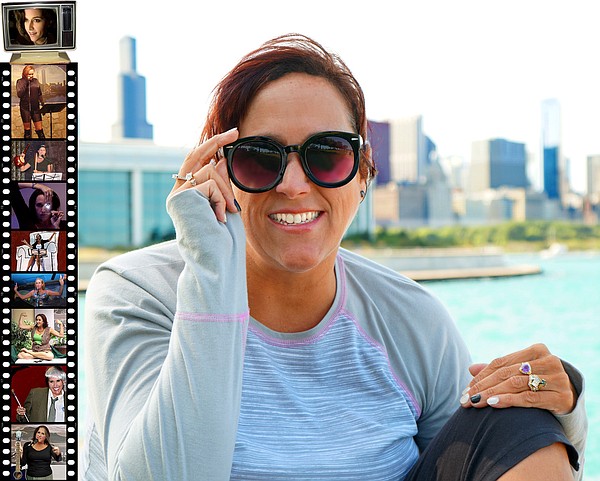 Wednesday Night Poetry hosts an award-winning poet
Professional performing artist and editor Janet Kuypers will be the featured poet in this week's Wednesday Night Poetry at Kollective Coffee + Tea, 110 Central Ave., with guest host Randy Malone.
Masks are recommended for the indoor event. The regular open mic session for all poets, musicians and storytellers will begin at 6:30 p.m. Wednesday. Kuypers will begin his feature at 7:15 p.m., followed by another round of open mics. Admission is free and open to all ages. Everyone is welcome.
Born in the Chicagoland area, Kuypers earned a degree in news journalism/editorial from the University of Illinois, with initial studies in computer engineering and later studies in poetry. She obtained a doctorate. in philosophy and is also a minister. Since 2015, she has lived in Austin, Texas with her husband John Yotko and their cat Mynx.
Kuypers is a writer and photographer, editing two literary magazines through Scars Publications. She has over 100 books of her poetry, prose, novels, and artwork in published form, available primarily on Amazon.
"I have been published thousands of times over the years, but since my work with Scars Publications became full-time, I have turned away from active efforts to be published elsewhere; Scars Publications has published many of my books and CyberWit.net has recently published books of my poetry, the most recent being a book on women's issues with translations, essays and more, released in 2022 during Women's History Month, titled "Breaking the glass ceiling,'" she said in a press release.
Along with a few early attempts at writing poetry that weren't quite successful, it was a series of life-changing events that really pushed her to write.
"I wrote a poem for a class when I was 9. I wrote occasionally in high school, but my attempts at rhyming without a message failed, so after entering college and facing new problems, I 've used poetry as a platform to not only convey my feelings, but also to educate others," she said.
"Life events change the focus of any writer. I worked for years facilitating a workshop on rape with an acquaintance and learning about societal statistics, as well as listening to the stories of women, I shaped the direction I wanted to take for my own writing. Life events changed me. Before I got married, I was hit by two cars while I was stopped at an intersection in my Saturn I wasn't even breathing on my own I was in a coma for 11 days After I regained consciousness I had to relearn how to walk and talk and eat It changes you – when you realize things the most horrible can happen even when a person has done absolutely everything right in their life. Once something like this happens to you, a new need to write becomes clear," she says.
"While driving across the country to visit my hometown of Chicago from our home in Austin, Texas, my husband and I stumbled upon this town and found the hot springs fascinating. I hear people in Chicago complaining water, but Chicago and a few big cities in the US have very good filtration systems – unlike Austin (which still isn't filtered for me), and I thought that was a place perfect to stop in. The real added bonus was finding Wednesday Night Poetry, where I heard an incredible array of poetic styles, and felt a warmth and welcome I hadn't felt since I ran my open mic in Chicago years ago," she said.
Kuypers hosted the Cafe Gallery Chicago poetry open mic and hosts the Poetic License Austin, Texas monthly open mic, which is now global via Zoom meetings. Performing spoken word and music nationally with band shows in Chicago, Round Rock Texas and Alaska, she has sung in three bands and her over 40 CDs are released on iTunes, Amazon and others. Featured in magazines such as Nation, Kuypers has won Poetry Ambassador and Poet of the Year awards, and she has been nominated for multiple Pushcart Awards. She will have books to sign and sell at Wednesday Night Poetry.
"Although I'm not here to host Janet, I'm so honored to have her return through Wednesday Night Poetry for a feature film. Her work was captivating the last time I heard it, and I'm sure she will bring intriguing poems and stories to share with our WNP audience. I'm grateful that our resident storyteller Randy Malone is there to welcome her while I'm gone," WNP host Kai Coggin said in the statement. .
"I am thrilled to be hosting a National Wednesday Night Poetry at an event in Philadelphia as part of the 2022 AWP (Association of Writers and Writing Programs) conference, a convergence of thousands of writers from across the country. many poets who have only participated in the virtual WNP for the last two years of the pandemic will go to AWP, and we will finally meet in person at this Philly event Forty incredible poets are registered to read at this event AWP WNP, to be held at The Fire, Philadelphia's oldest open mic venue. We can even call the Kollective WNP and connect the two simultaneous events! It's a big week for us; I know our founder, Bud Kenny, smile from the stars," Coggin said.
This week marks 1,730 consecutive Wednesdays of open-mic poetry in downtown Hot Springs since February 1, 1989. in the mission to spread arts awareness in our local community," the statement read.
E-mail [email protected] for more information.